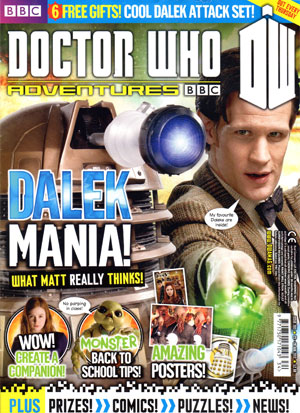 You'll have to excuse me If I'm a little distracted this week.

I'm trying to find my two-headed godmother. It would seem that during one of her many attempts to clean the TARDIS, the old girl decided my godmother was a threat and sent her back in time.

The problem is, I'm not exactly sure when, or even where. It's just a simple defence mechanism though, nothing to merry about – basic timey-wimey stuff. I'll just press this button here and everything should be oka-

Also inside…

*What an experience
*Get ready for adventure
*What will happen in Who?
*Public enemy number one!
*Create a companion
*Monster School
*Panic room (comic)
*upload and more…

This weeks issue comes with a Dalek attack set.