Editor's bit...
(Dave Lewis 'The Mad Man with a Blue Blog')
Todays picture is The Three Doctors by Harnois75."From the Doctor Who tenth anniversary story - The Three Doctors. The Doctor has to help the Timelords when a black hole threatens to drain all of their power. But he cannot fight the scale of the menace alone. Summoning the last vestiges of their power the Timelords lift previous incarnations of the Doctor from their time streams and throw them together to help one another."
Todays Jigsaw...

91
Scanner selected posts...
Nothing Tra La La? (Simon Guerrier) has How How the Doctor Changed My Life Changed My Life. "Five years ago today, on 19 June 2007, the BBC's official Doctor Who site announced the winners of a short story competition that I'd judged. The winning stories, all by first-time fiction writers, were later published by Big Finish as How the Doctor Changed My Life...."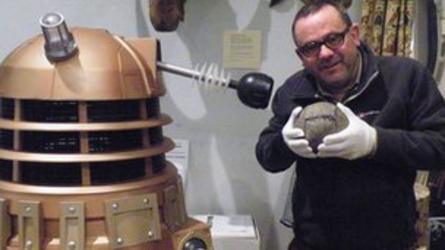 BBC News has Get up close and personal with the world's oldest football. Standing, rather incongruously, in front of one of the museum's two Daleks I got a chance to hold this extraordinary artefact. It's lighter than you might expect. And much smaller than a modern football....
Diary of Doctor Who Role-Playing Games Fanzine has Issue 018. The newest issue of the Diary of Doctor Who Role-Playing Games (DDWRPG) fanzine for those interested in Doctor Who role-playing and games has come out.
Miscellanious News...
Doctor Who News Page - Portal Awards Nominations 2012
Matt Smith is once again nominated as Best Actor - as with last year he faces Andrew Lincoln (The Walking Dead) and Eddie McClintock (Warehouse 13), plus this year's nominees Jensen Ackles (Supernatural) and Peter Dinklage (Game of Thrones).....
Outside the TARDIS.....
WhoTube....
Video Free Skaro has 006 - Zombies and Talk Shows. On this episode of Video Free Skaro, we profile "Mind My Brains, Darling!" a webseries made in the style of "Are You Being Served?" and other British comedies of the Seventies, but with zombies. We also debut "Tom Baker Tonight," an exciting foray into late night variety programming by a tiny, maniacal Tom Baker action figure. All this and the latest news, reviews, and superfluous pictures of Jenna Louise Coleman!
Podcasts...
Beware most podcasts are of an adult nature and are not suitable for children.

The 20mb Doctor Who Podcast has Episode 118. Alicia and Adam discuss her health and a bit of Doctor Who related things in the Cardis on the way to school before Adam and Kirby steer the show through news, feedback, top 30 Doctor Who podcasts and our review of The Shakespeare Code.
The Happiness Patrol has Episode 90: It's LELA DAY! It's a special day today on The Happiness Patrol. Today marks the return of our wayward child and un official 'face' of The Happiness Patrol, Ms Lela S.
Pharos Project has Episode 102: Attack of the Killer Satsumas. At long last, the tenth Doctor has rocked up to the podcast. Replete with sideburns, fancy tussled do and angry jutt-chin face, Mr Tennant takes up residence in the T.A.R.D.I.S. Also this week, we instigate our cultural exchange program, as Mr Chris watches "She-Wolf of London", and Mr Paul watches "Jason of Star Command".
Traveling the Vortex has Episode 77 – What a Wonderful Butler, He's So Violent! In this week's episode, we take a look at the Classic Doctor Who story, City of Death starring the Fourth Doctor and Romana II. We give our reviews on this David Fisher, Douglas Adams and Graham Williams collaboration.
Review's Roundup...
Gallifrey Exile has One Tomb Many Cybermen, The Tomb of the Cybermen is the first complete Second Doctor story known to exist, the first story to feature Victoria Waterfield as a full-fledged Companion, and the only complete story with Victoria known to exist. It is also the first complete Cyberman story, given that their debut story The Tenth Planet and their return in The Moonbase both are incomplete. The Tomb of the Cybermen however, is not just historic because of those stats. It is also one of the best Doctor Who stories, and certainly one of the best Second Doctor and Cyberman stories around. ...
Chair With A Panda On It has Doctor Who: The Magic Mousetrap. Switzerland, 1926: the Doctor finds himself halfway up an Alpine mountainside, on his way to an exclusive sanatorium for the rich and famous run by the Viennese alienist Ludovic 'Ludo' Comfort. In between bouts of electric shock therapy, Ludo's patients – including faded music hall turn Harry Randall, chess grandmaster Swapnil Khan and Lola Luna, darling of the Weimar cabaret scene – fill their time with endless rounds of Snap!, among other diversions....
Siskoid's Blog of Geekery has Doctor Who 210: The Wheel in Space Part 5. The Doctor deduces the Cyber-plan and it's insane. Zoe and Jamie go for a spacewalk as meteors swarm...
polentical has TV in Review: Doctor Who, "Human Nature". The Doctor gets to dress up as a teacher, droning on about Napoleon, while Martha gets to scrub floors. Not necessarily a fair trade, although the Doctor is a bit dim-witted as he's forcibly forgotten his past, some of which he writes down as fiction, as "A Journal of Impossible Things"...
Second Life News
The TARDIS Newsroom has its own place in Second Life, come and drop in for a virtual Doctor Who World of adventure at Paradox Island.
Paradox Island at the SL 9th Birthday Bash. Come and try our unique TARDIS Ride. (Ed: thanks to Pipa Noveli and Al Blindside for setting up the Paradox Island Booth in such a spectacular way).
The Musings Of Mornington has and so it begins...Event 1: SL9B. The Second Life 9th Birthday celebration (SL9B) is a bunch of regions all joined up around a central massive birthday cake. The Dr Who Group has a booth there representing Katrina and HoO. The first of the major Dr Who regions to lay down a build at one of these yearly SL Birthday events. Due to the birthday theme and the theme of "community" the booth is not only representing Katrina and HoO, its also representing the main Dr Who Group, New Gally, Who Island, Olyesti and Paradox Island. Paradox Island has their own booth under Novelli Systems at the SL9B as well, you can check the Dr Who Group notices for the location of their booth.

Spoiler and Speculation Alert...


Our Spoilers section has been updated