Editor's bit...
(Dave Lewis 'The Mad Man with a Blue Blog')
Todays picture is The New Doctor by caldwellart.
Todays Jigsaw...
Scanner selected posts...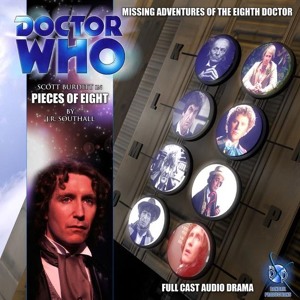 Bandril Productions has Doctor Who Pieces of Eight (Episode 1 of 2)
Storyline: The TARDIS brings the Doctor, still saddened at having been rejected by Grace, to a perfect English village green in the spring of 1908. Or does it? Is it really 1908, and is it really England? And just Who is the mysterious stranger known as Stream, the only other occupant of the village? The Doctor must undergo a baffling series of trials before he can get to the truth with tests delivered to him by a variety of unexpected but familiar faces...
Pieces of Eight is a full-cast, and completely unofficial and unlicensed audio drama from Bandril Productions. Starring Scott Burditt as the Eighth Doctor. With Grant Foxon, Philip Fairweather, James Maton, Paul Jones, David Nagel, Steven Hill, Kurt Bergeron and J.R. Southall. The Doctor Who theme, incidental music and sound effects are by Westley Smith. With additional editing by Scott Burditt and Paul Jones. Doctor Who Pieces of Eight is produced by Bandril Productions. Listen or download here.
Miscellanious News...
WhoTube....
Talking Who has Episode 31 - The 11th Hour and Ace Adventures reviews. The world's first live Doctor Who TV talk show is back. In this episode Elisar is joined by Talking Who contributor Annie Fairfoul live in the studio. On the show this week are reviews of Matt Smith's first episode The Eleventh Hour and the Ace Adventures DVD boxset.
mutantaday has Josh Adams at the 2012 Dallas Comic Con. Kellen Interviews artist Josh Adams at the 2012 Dallas Comic Con where they talk Dr. Who art, Adam, Eve & Steve, and sexy sexy abs!
rdjackson87 has Dalek Animation. "This forms part of my Masters Degree. The audio comes from The Apocalypse Element, a Doctor Who audio adventure produced by Big Finish Productions."
Podcasts...
Beware most podcasts are of an adult nature and are not suitable for children.

Under The Miniscope has Episode 17: "The Requisite 'Tin Dog' Reference". In this episode, Andrew and Sarah dive into all things K-9 as we take a look- and a narrative analysis- at the best friend a Doctor could ever wish for! Also, we dive into the mailbag, because... well, we finally have one... and take a look at the past-deadline results of the Monsters&Villains poll! Don't miss this Kroll-sized mega-epic!
The 20mb Doctor Who Podcast has Episode 116: Runnaway Bride by Russell T Davies. Adam and Kirby only really have our review show to discuss this week due to time constraints. This is a bit of a mini episode of the 20mb Podcast.
Drunken Time Travel has 3.01 Galaxy 4 Extra - Drurnken Science, Welcome to Galaxy 4's supplemental podcast - Drunken Science - where we have fun drunkenly talking about the science of three star solar systems as seen in Galaxy 4.
Earth Station Who has Episode 7: ESW Live at TimeGate 2012. Recorded panel at TimeGate 2012 features Mike, Mike, and Dave with special guests Scott Viguie (Articles of the Shadow Proclamation podcast) and Rebecca Perry (TheOneRing.net) as they reveal what goes on behind the scenes creating the podcast and why they feel it is important to look at the past of Doctor Who to fully appreciate the future.
Tid-Bits...
Doctor Puppet Tumblr has I returned to Central Park to meet some cool people and explore...
RedBubble.com has Army of Daleks by David Benton.
Review's Roundup...
ka-os theory has The crooked smile. Original and subversive, The Happiness Patrol couldn't be any more of a turn-off for that kind of Doctor Who fan for whom Hammer Horror rip-offs are the ideal. But here's an even bigger turn-off: The Happiness Patrol is all about being gay....
Siskoid's Blog of Geekery has Doctor Who 198: The Web of Fear Part 5. A possessed Travers kidnaps Victoria and the Doctor modifies a control sphere to control a Yeti he names Fred....
stuartreviewsstuff has Dr Who Review: The Mutants (or 'A Cure For Insomnia') (or even 'How To Act Badly' by Rick James'). It's one of those Dr Who stories where people get captured, escape, captured and escape again. There's a set piece where the Doctor foils one of Professor Jaeger's experiments by switching leads round when he isn't looking that gets repeated two or three times....
Spoiler and Speculation Alert...


Our Spoilers section has been updated