From The Doctor Who Site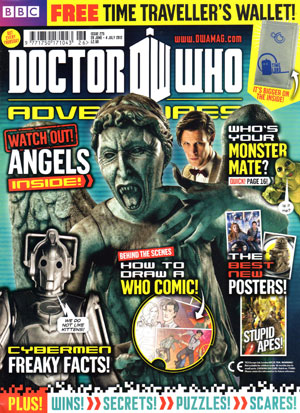 I'm in America! It's summer 1776 and I've just lent a nice man called Thomas Jefferson my pen.
Tom and his mates are all celebrating something, and we're about to have a big party with fireworks and cake.
I think it must be someone's birthday. I wonder if it's Tom's? Hang on, I'll ask…
No, it's America's birthday. She'll be 236 on 4 July. That's a lot of candles! We'll need an enormous cake! Yum.
The Doctor
Also inside…
Dalek Warning
Eleven to one
Very cross word
So scary
Companions
Cyber fast facts
the sky is falling (comic)
Comic creation and much more…
This weeks issue
, priced £2.60, comes with a free time travellers wallet to keep your money safe