Editor's bit...
(Dave Lewis 'The Mad Man with a Blue Blog')
Todays picture is Doctor Who Series 6 by DJToad.
Todays Jigsaw...

70

Scanner selected posts...
BBC Doctor Who has Dark Day: What Do You Think Happened?
On May 19th, 1780, darkness fell across vast swathes of New England and Canada. Nothing unusual about that. Except it was noon... The darkness lasted several hours and many believed that this sinister 'night-time' signalled the end of the world...
It's one of those mysteries the Doctor would love to solve! Unfortunately, he's a little busy at the moment. Planets to save, species to rescue, new forms of jammy dodgers to invent.
So, we'd like to know what you think caused this mysterious event! Some people have suggested forest fires whilst others say that a blaze big enough to cause total darkness for several hours would have been noticed!
Your suggestions can be scientific but we'd also love to hear explanations that tie into the Doctor's world. Do you think a vast armada of Dalek spaceships over North America caused the phenomenon, for instance? Did the Cybermen have a metal hand in the mystery or were the Judoon poking their horns into human affairs again? Send in your suggestion here.
This way up has Up-words - It's Time for Doctor Who. Imagine you're a Doctor Who fan. One day in the 1990s someone appears from the future (and, hey, he might be a bit Northern with prominent ears and a black coat, you never know) and tells you that your favourite telly show will be back on air in 2005 and not only will it be great, exciting, terrifying and epic but it will be a ratings trouncing success, the serious critics will rave and even people who previously thought it was all silly wobbly set laden kids stiff will swoon when they catch an eyeful. There will also, he adds with a twinkle in his eyes, be Daleks, millions of them. "Fantastic!" It sounds like something that could never happen but here we are in 2005 and it has happened....
WalesOnline has Gallery: Our behind-the-scenes look at the Doctor Who Experience. As the announcement of the opening date of the Doctor Who Experience was made, reporters from WalesOnline were given a behind-the-scenes tour of the exhibition, which is still under construction....
Miscellanious News...
Coming Soon.....
Doctor Who and the Sea-Devils (CD) By Malcolm Hulke.
Geoffrey Beevers reads this exciting novelisation of a classic "Doctor Who" adventure. Whilst visiting the Master, who has been exiled to a luxurious castle prison on a small island, Doctor Who and Jo Grant learn that a number of ships have vanished in the area.
Whilst investigating these mysterious disappearances, Jo and the Doctor are attacked by a Sea-Devil, one of a submarine colony distantly related to the Silurians. Soon they discover that the Sea-Devils plan to conquer the Earth and enslave humanity, aided and abetted by the Master.
What can Doctor Who do to stop them?
Geoffrey Beevers, who played an incarnation of the Master in the classic BBC TV series, reads Malcolm Hulke's complete and unabridged novelisation, first published by Target Books in 1974.
order from Amazon UK here.
Podcasts...
Beware most podcasts are of an adult nature and are not suitable for children.

The 20mb Doctor Who Podcast has Episode 113: The Impossible Planet/The Satan Pit by Matt Jones. Adam is joined by Kirby, Robert and special guest Johnny Candon. We discuss the above story plus other geeky things.
Who's He? has Podcast 61: They got little cars. In this weeks show, Phil & Paul continue with their series 4 retrospective with a look back The Sontaran Stratagem. They both try really hard this week to be positive and for the most part they succeed. However, with a snivelling wretch of a boy genius the Doctors new found dislike for U.N.I.T., it doesn't take them long to start getting a little bit picky. But in this weeks news, the announcement that episode 1 of series 7 will be premiered in August and Karen Gillan and Arthur Darvill have completed their final scenes give the two of them plenty to discuss and go off topic about. Please be warned that during the course of this weeks episode, the words "twunt" and "bukakke" are used with wanton abandon.
Tid-Bits...
TDW Geeks has TARDIS Corset of the Day. Corset Wonderland's steel-boned TARDIS Corset: guaranteed to make you smaller on the outside!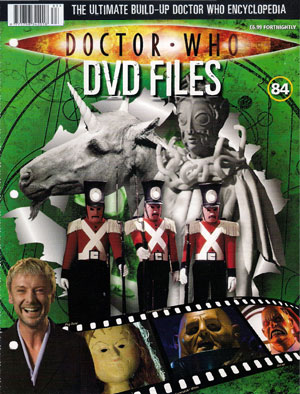 The Doctor Who Site has Doctor Who DVD Files Issue 84. This 84th edition of The DVD Files contains the classic story The Mind Robber.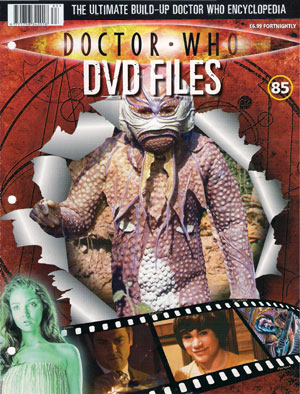 The Doctor Who Site also has Doctor Who DVD Files Issue 85. This 85th edition of The DVD Files contains the classic story Full Circle.
RedBubble.com has Trust Your Doctor by Khepera.
Review's Roundup...
Chair With A Panda On It has Doctor Who: The Ark. In the final days of Earth, the TARDIS lands on a massive spaceship carrying the last members of the human race to a new home beyond the solar system. The humans are not out of danger, however, as a deadly plague emerges from the most unlikely of sources: the common cold carried by the Doctor's companion Dodo....
Siskoid's Blog of Geekery has Doctor Who 175: The Tomb of the Cybermen Part 4. The Cybermen go back to sleep and after defeating Klieg and the Cyber Controller, the Doctor seals up the tomb again....
Bigger On The Inside has Parasite. The TARDIS materialises on the Artifact in the 26th century. The Artifact is immense hollow orb, populated by a variety of unpleasant alien-forms. The Artifact has only recently arrived in the Elysium system, which is contested by three different factions. It's presence has only served to increase tensions as its gravitational distortions provide an opportunity to reach Earth....
The Edwardian Adventurer has Doctor Who Story 051 – Spearhead from Space part 1. "Typically, I have tried to review stories in their entirety (especially once the individual episode titles were dropped from Doctor Who's format). With this serial, however, it seems more conducive to break things up a bit. Part one is doing quite a few things and it can be a bit jarring...."
Second Life News
The TARDIS Newsroom has its own place in Second Life, come and drop in for a virtual Doctor Who World of adventure at Paradox Island.
The SL Doctor Who Expo has PodShock Party and Mod Job II. First of all, for the folks within Second Life who are from the Relay for Life teams who may be attending the event. The biggest question ive heard is "what is podshock?". Doctor Who: Podshock is the oldest continual podcast dedicated to Doctor Who, they can be found here....
For more news from Second Life check out my Google+ page Having a Second Life.