Editor's bit...
(Dave Lewis 'The Mad Man with a Blue Blog')
Todays picture is East Meets West by Bug-Eye.
Todays Jigsaw...

80

Scanner selected posts...
Caption Who has posted ""The End Of Time" just keep on rolling along! In this update (starting on page 1201) we move on from Part One to Part Two with a copious amount of Timothy Dalton saliva thrown in for good measure!"
Miscellanious News
DWAS - Win New Target Reprints
To celebrate the announcement that Anneke Wills will be joining us at Riverside Reflections, we are pleased to offer the chance to win a set of the next Target Book reprints from the BBC....
Blogtor Who - Series 7 Preview!
The Doctor Who Series 7 Preview Podcast from the Blogtor Who audio commentary team, Cameron K McEwan and Alexander J McKinnon. Included is a preview of the upcoming series (so, some spoilers if you're being totally spoiler-free)...
WhoTube....
The Omega Podcast has Episode 74: Eyestalk App for iPhone and iPad2. In episode 74 Wendell and Wes test drive the brand-new iPhone and iPad2 Eyestalk App. The Eyestalk App, created by Paul Gee, sim simulates the views of different Daleks through the years and lets you snap and load pictures through those styles.
Podcasts...
Beware most podcasts are of an adult nature and are not suitable for children.

Under The Miniscope has Episode 13: "Kind of a Trilogy". Andrew and Sarah tackle their most recent viewing, Tom Baker's E-space trilogy, and review the three serials within it, as well as discussing the momentous comings and goings portrayed within it, comparing Romanas, and debate questionable evolutionary science... with a few Homestar Runner and Ewok Adventure references thrown in for good measure.
Adventures in Time, Space and Music has Episode 41 – Series 1, Part III – Richard Rodney Bennett and Marcus Dods Meet the Aztecs. In this episode we'll be looking at the music of composer Sir Richard Rodney Bennett and ensemble conductor Marcus Dods. Here, we will look at their work on Serial F - Story 6 – The Aztecs, a 4-part serial which originally aired between the 23rd of May and the 13th of June 1964 on BBC One.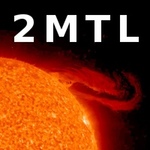 Two-minute Time Lord has 2MTL 266: Google's Glasses are a Cyber-Conspiracy, I Tell You!. The Bluetooth earpiece gag in "Rise of the Cybermen" was kind of obvious — it was made in 2005, after all — but Google's Project Glass plans revealed last month made me think that we're much closer to our impending cyber-conversions than previously anticipated!
The Sonic Toolbox has Episode 31: What Did You Say? It's feedback time again! So we dug into our email and Facebook and blog comments and read or played them just for you.
The Doctor Who Book Club Podcast has Special Episode: An Interview with "Who is the Doctor" Authors Graeme Burk and Robert Smith? We interrupt our regular reviews of Doctor Who novels with an interview with Graeme Burk and Robert Smith?, authors of the recently released Who is the Doctor, an in-depth (and, wow, we mean really in-depth) assessment of the new series, from "Rose" all the way through to "The Wedding of River Song."
Radio Free Skaro has 309 – Silver Spoonerisms. It might sound like an overstatement, but writer/script editor Dennis Spooner was one of the most important figures in the history of Doctor Who. He essentially created what is now referred to the "pseudo-historical", introduced comedy into Doctor Who as a more prominent feature, and basically created the many mannerisms of the Second Doctor, the characterization that would go on to influence all subsequent versions of The Doctor. In order to fully pay homage to Spooner, the Three Who Rule are joined by writer Graeme Burk, whose encyclopedic knowledge of Doctor Who and deep insight into Spooner's work makes this an enjoyable listen.
The Cultdom Chronicles has Cultdom Episode 149. Best Classic Doctor Who moments as judged by the Collective.
Tid-Bits...
Rich's ComixBlog has The Eternity War - 03. A TARDIS lands in a graveyard in Pittsburgh in 1968. The Scout emerges from within having followed instructions from CIA operatives (Celestial Intervention Agency). He learns that the serum the Daleks got from the Rani should allow them to reanimated the dead and they've come to Earth to try it out!
Time and Relative Dimensions In Space has a Photo posted by zanderpants.
RedBubble.com has I stole a Time Lord by glassCurtain. From the Doctor Who episode 'The Doctor's wife'.
Review's Roundup...
planetzogblog has Doctor Who 3.12: The Sound of Drums review. It's one episode in which the music is a large reason of its brilliance. Murray Gold's theme "All the Strange Strange Creatures" which has been prominent throughout the season gets a particularly epic extended airing, and an equally epic "This is Gallifrey" appears.
TARDIS Eruditorum has Do You Think Anybody Votes For Sweet? (Vengeance on Varos) ....is for the most part the easiest to like story of Season 22. This is not to say it is the best - the redemptive reading of The Two Doctors presents a story that is probably superior to this one. But where The Two Doctors is prickly and difficult, liking Vengeance on Varos requires only a basic ability to deal with satire and black comedy of the sort that ought be trivial for anyone reading this blog....
stuartreviewsstuff has Dr Who Review: The Daemons (or 'Iconic Story or One Step Too Far For The Master?'). The Master – posing as a man of the cloth – uses the people of the village of the appropriately (and perhaps unimaginatively) named Devils End to try to summon – you guessed it – The Devil. Well…not really. The 'Devil' is actually Azal, a Daemon from the planet Daemos. They are a race of creatures that have had a hand in the development of Earth for over a million years...
Second Life News
The TARDIS Newsroom has its own place in Second Life, come and drop in for a virtual Doctor Who World of adventure at Paradox Island.
Having a Second Life has RFL of SL May Day Faire 2012 from v1ctor1st.
Paradox Island - A Second Life Adventure has Free Novelli TARDIS HUD - Basic. .