Editor's bit...
(Dave Lewis 'The Mad Man with a Blue Blog')
Todays picture is Time Window by TheFirstPictureShow.
Todays Jigsaw...

80

Scanner selected posts...
BBC America - Anglophenia has Doctor Who Rogues Gallery: The Rani. There are other Time Lords whose names are also their career status (the Monk, the Corsair) but these are inward-looking titles, describing little about their attitude to everyone else. You can't be a Master without a domain, or a Doctor without patients (or a War Chief without a war, which says something about the mentality of that particular Time Lord). And then there's the Rani....
Miscellanious News...
Podcasts...
Beware most podcasts are of an adult nature and are not suitable for children.

Arrow of Time has 036 – Fraser McAlpine, Please Don't Kill Us. This week we scrump some songs and invite the wrath of one Mr. Fraser McAlpine! (Help.)
The Oncoming Storm has Episode 8: NA 6 - Choosing the Right Weapon. A cleaning lady. A child killer. That scary wiccan chick. What do they all have in common? Why, they're all discussed in the 8th Episode of The Oncoming Storm of course! Josh and Ashley are looking at Cat's Cradle: Warhead this week, a novel by former script editor of Doctor Who Andrew Cartmel. With someone who was that close to the television show, it's sure to be just like what we used to watch on the telly right? When you're done laughing at that little ditty, turn on Josh and Ashley as they discuss the beginnings of the"Dark" Doctor, the benfits of ignoring character dialogue, and just what it means if you find yourself in the unfortunate position of being "useful" to the Doctor.
A Mad Man with a Box has Dr. Phillip Serna/The Leisure Hive. On this week's episode Dr. Phillip Serna of the Adventures in Time Space and Music Podcast and I debate if there is any recreation to be found in the re-creation machine of The Leisure Hive.
BrokenSea has Behind the Sofa – 1st 4 Episodes of Season 4. Join Stevie K. Farnaby (Producer / Engineer), Paul Mannering (Writer), and Mark Kalita (The Doctor) aboard the TARDIS, for a fun chat as they discuss the 1st 4 Episodes of Season 4, Production Delays, and the loss of Mentor.
The Memory Cheats has Episode 9 - The Power of Kroll. The Key to Time season holds special childhood memories for both Josh and Steven, but what did they think of one of the more maligned instalments in Season 16, The Power of Kroll? It was written by Robert Holmes and featured some classic Tom Baker moments, so it couldn't have been all bad, right?
Tid-Bits...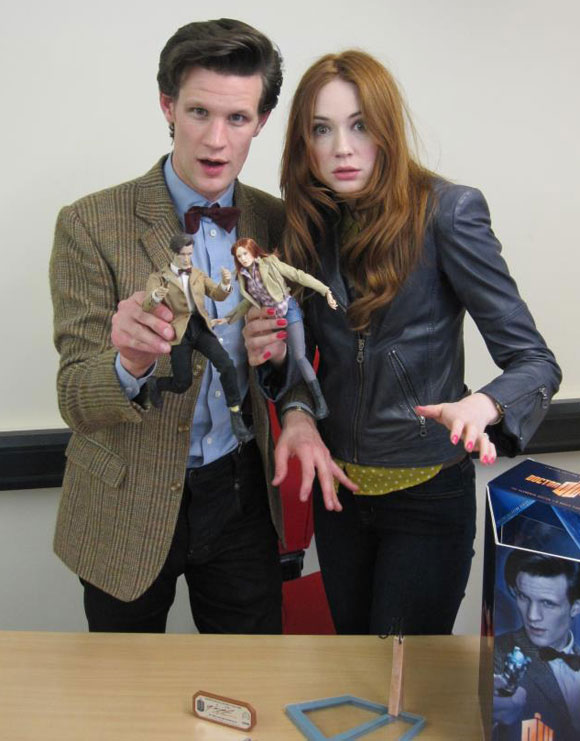 The Doctor Who Site has Big Chief Studios Meets The Doctor And Amy Pond. "A great day meeting Matt and Karen. Both stars were great fun, extremely complimentary about their figures and both in costume!"
Cheezburger Network has 'Til The Daleks Do Us Part.
RedBubble.com has Cymberman What-What? by boil147. For the Cybermen fans that dream of owning a smoking jacket.
Review's Roundup...
The Daily P.O.P. has Doctor Who and The Mists of Time. The Doctor and Jo have arrived on a dreary planet where the swirling mist plays with your mind. If you aren't careful, strange things come out of the mist in the night. Ghosts from the past; unearthly specters still clinging on to reality yet unaware that they have passed on. When the travelers encounter a survey team stranded on the planetoid, they are determined to help, but it soon becomes apparent that one of them is determined to see that none of them leave and is prepared to kill to make certain...
TARDIS Eruditorum has A Well-Prepared Meal (The Two Doctors). When last we looked at this story the question was whether or not it functioned meaningfully as a Patrick Troughton story, and it was found wanting. Lucky for it, then, that its primary job was not to function as a Troughton story but as a Colin Baker story, a job that it performs markedly better at....
Siskoid's Blog of Geekery has Doctor Who 171: The Evil of the Daleks Part 7. The Daleks destroy each other in a civil war and the Doctor adopts Victoria....
Second Life News
The TARDIS Newsroom has its own place in Second Life, come and drop in for a virtual Doctor Who World of adventure at Paradox Island.
Gallifreyan Embassy has Back by Popular Demand, the Doctor Who: Podshock Meet Up on Second Life! Taking Place on May 19th. After having to postpone our regular meet up last February due to scheduling conflicts, we received many inquires on when the next one would take place. It's here! We are back on schedule with our May meet up. Fans of Doctor Who, Torchwood, Sarah Jane Adventures and alike are coming together once again for the legendary Doctor Who: Podshock seasonal meet up on Second Life. It is all happening on Saturday, the 19th of May 2012.