From The Doctor Who Site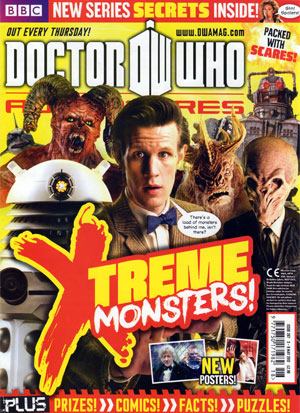 I had a big adventure the other day.
I spent ages looking For a lost sock and then it turned up in the washing machine, of all places!
Just kidding!
But I did visit a galaxy shaped like a washing machine that had been invaded by killer socks.
Not only did they have big, razor-sharp teeth, but they smelled a bit, too!
The Doctor
Also inside…
New York, New York
XTreme Monsters
The Grontlesnurt Horror
Amy Pond facts
Freaky first encounters
Island of the cyclopes (comic)
Regeneration
Designing the details and much more
This weeks issue
comes with a surprise mini monster Army, Mosh monster stickers and a bumper sticker sheet.