Editor's bit...
(Dave Lewis 'The Mad Man with a Blue Blog')
Todays picture is The Master by jlfletch.
Todays Jigsaw...

70

Miscellanious News
WhoTube....
llordllama has Casting Rose Tyler. Shooting for Doctor WHeasel: Series One kicks off shortly. But first we need to cast Rose Tyler...
Podcasts and VBlogs...
Beware most podcasts are of an adult nature and are not suitable for children.

Under The Miniscope has Episode 12: "Yes, We Hiss At Our Cat". Things get a little silly and sidetracked as we sit down to discuss our favorite types of classic series serials; Andrew comes to realize that he didn't like what he thought he did, Sarah keeps 'coloring outside the lines,' and both of us discourse on how Earth culture holds the Doctor back.
The Sonic Toolbox has Episode 30: Martha, Martha, Martha. Otherwise known as "Martha goes Stupid". We review the first Martha Jones episode "Smith and Jones" in which RTD takes what started out as an intelligent, independent, career minded woman and turns her into a husband seeking drone. And Judoon. A platoon of Judoon on the moon.
Who's He? Podcast has Episode 59: Don't let your lava love turn to stone. Whilst Paul is on his holidays, Phil enlists the help of new friend to the show Stephen Prescott from the rather excellent A Madman With A Box Podcast to discuss The Fires of Pompeii. During the discussion, Stephen educates Phil on Latin textbooks and they both go wildly off tangent and delve into the merits of RTD versus The Moff and whether longstanding fans requests for classic monsters such as Ice Warriors and Zygons to return to the show would a be good thing. Also, in a very short news section, John Barrowman wants Captain Jack to return to Doctor Who, more Daleks and an actress who once appeared in Doctor Who nearly 50 years ago reaches the grand age of 100. And because of that, we are claiming her as our own first Doctor Who centenarian.
Radio Free Skaro has Episode 308 - Next Stop: Aberdeen. As a result of one of the lightest news weeks in recent memory in the worlds of Doctor Who, the Three Who Rule were allowed to devote their full attention to a commentary on Elisabeth Sladen's (first) finale in the classic series, namely 1976?s "The Hand of Fear". Quarries, nuclear plants, Judith Paris in a sexy, skin tight rock costume, Rex Robinson's eyebrows – surely this story was a can't miss, epic conclusion to Sarah Jane Smith's tenure in the TARDIS, right? Well…at least there's that goodbye scene to look forward to, right? Also in this episode: a review of Michael E. Briant's upcoming memoir "Who is Michael E. Briant?", the classic Who director's collected memories of his time on Who and other TV shows of the day. Eldrad must live!
Tin Dog Podcast has TDP 239: Shada Book Review. The story revolves around the lost planet Shada, on which the Time Lords built a prison for defeated would-be conquerors of the universe. Skagra, an up-and-coming would-be conqueror of the universe, needs the assistance of one of the prison's inmates, but finds that nobody knows where Shada is anymore except one aged Time Lord who has retired to Earth, where he is masquerading as a professor at St. Cedd's College, Cambridge. Luckily for the fate of the universe, Skagra's attempt to force the information out of Professor Chronotis coincides with a visit by the professor's old friend, the Doctor.
Traveling the Vortex has Episode 70 – The Omega Factor. In this week's episode we continue our look at Gallifrey's baddies in our continuing overview of rouge Time Lords. This time it's the co-creator of Time Lord society, Omega. We'll first take an in-depth look at the Fifth Doctor story, Arc of Infinity, and then a review of the Big Finish Audio production of Omega.
Tid-Bits...
Rich's ComixBlog has The Eternity War - 02. The Rani, disguised as a Roman noblewoman, makes an exchange with the Daleks. A Skarosian genetic fixitive in exchange for a 'serum'. When the Daleks transmat themselves away, a Time Lord spy leaps out of hiding to arrest the Rani. She fights back and escapes, the Time Lord being urged to leave her alone and chase after the Daleks.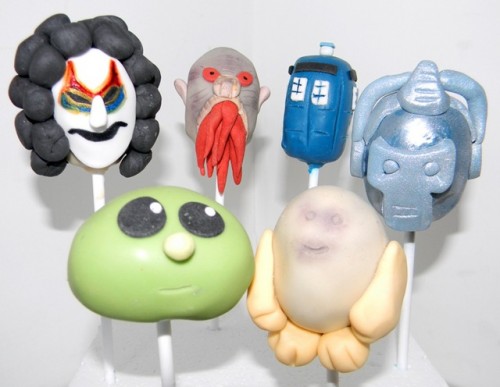 Neatorama has Doctor Who Cake Pops. Aurora Cakes in Burghead, UK made cake pops that closely resemble Doctor Who characters.
Review's Roundup...
Gallifrey Exile has What's It All About, Alfie? "Oddly, when I saw the trailer for Closing Time, the first thing to enter my mind was, of all things, Spaceballs. I remembered the scene where the great John Hurt (a potential Kennedy Center Honoree) made a cameo in the film, spoofing his role in Alien. When the monster burst out of Hurt's body, Hurt looked down at it and said, "Oh no, not again" before the alien burst out himself...into a hilarious version of Hello My Baby...."
planetzogblog has Doctor Who 3.11: Utopia review. "If you've been watching both shows though, this is the 2007 season of Doctor Who and the last time we saw Jack in Doctor Who was in the season broadcast in 2005. The joining narrative for him – from Parting of the Ways to this episode – was Torchwood Season 1 which was broadcast October 2006 to New Year's Day of 2007. This ep actually fills in the plot-gap between that Dalek episode and the first episode of Torchwood...."
Siskoid's Blog of Geekery has Doctor Who 160: The Faceless Ones Part 2. Potential companion Samantha Briggs is introduced, and just in time too as Polly is replaced by a Chameleon and Ben disappears as well....
Bigger On The Inside has Blood Harvest. During the roaring 20's in Chicago famed gangster Al Capone hires detective Tom Dekker to investigate a new rival, the mysterious Doctor, running a speakeasy named Doc's Place. Dekker finds that the Doctor is protected by a gun moll named Ace...
Adventures with the Wife in Space has Pyramids of Mars. It's Sue and Neil before Sutekh…