Today in the 'Whoniverse'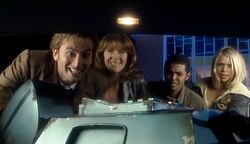 Behind the scenes
1916 - William Squire born, played the Shadow in the Doctor Who story The Armageddon Factor.
1954 - Richard Mitchley born, played Arrex in Delta and the Bannermen and voiced Gissing in Golden Age.
1967 - Episode 4 of DW: The Faceless Ones was first broadcast.
1972 - Episode 4 of DW: The Mutants was first broadcast.
2006 - DW: School Reunion was first broadcast.
2010 - BBCR: Genesis of the Daleks was offered as part of a week-long giveaway by The Daily Telegraph.

Today in History
Historical Events
1429 - Joan of Arc leads Orleans, France, to victory over English
1553 - Flemish woman introduces practice of starching linen into England
1707 - English/Scottish parliament accept Act of Union, form Great Britain
1813 - Rubber is patented
1853 - Comet C/1853 G1 (Schweizer) approaches within 0.0839 AUs of Earth
1882 - The "Elektromote" - forerunner of the tram - is tested by Ernst Werner von Siemens in Berlin.
1916 - Irish nationalists set post office on fire in Dublin
1930 - Telephone connection England-Australia goes into service
1945 - Adolf Hitler marries Eva Braun
1974 - President Nixon said he will release edited tapes made in White House
1981 - Peter Sutcliffe admits he is the Yorkshire Ripper (murdered 13 women)
2011 - Wedding of Prince William, Duke of Cambridge and Kate Middleton.

Famous Birthdays
534 - Taliesin, Welsh poet, according to legend in Mabinogion
1895 - Malcolm Sargent, English conductor (Promenade Concerts)
1931 - Lonnie Donegan, Glasgow Scotland, vocalist
1958 - Daniel Day-Lewis, England, actor (Last of the Mohicans, My Left Foot)
Todays UK TV and Radio
Doctor Who
On: Watch
Date: Sunday 29th April 2012
Time: 09:00 to 10:00
Smith and Jones. Series 29, episode 1.
Martha Jones finds herself on the moon. She meets the mysterious Doctor, and life will never be the same again.
(Widescreen, Subtitles, Audio Described, 5 Star)
Starring: David Tennant, Freema Agyeman

The Sarah Jane Adventures
On: CBBC
Date: Sunday 29th April 2012
Time: 11:00 to 11:30
The Gift. Series 3, episode 6.
When the Slitheen's latest scheme is halted, the Blathereen arrive - but can they be trusted?
(Stereo, Repeat, Widescreen, Subtitles, Audio Described, 2009)
Director: Joss Agnew
Starring: Elisabeth Sladen, Tommy Knight, Daniel Anthony, Anjli Mohindra, David Tennant, Nigel Havers

The Sarah Jane Adventures
On: CBBC
Date: Sunday 29th April 2012
Time: 11:30 to 12:05
The Gift. Series 3, episode 6.
When the gift runs riot, Sarah Jane faces the battle of her life to save Luke.
(Stereo, Repeat, Followed by Newsround, Widescreen, Subtitles, Audio Described, 2009)
Director: Joss Agnew
Starring: Elisabeth Sladen, Tommy Knight, Daniel Anthony, Anjli Mohindra, David Tennant, Nigel Havers

Doctor Who
On: Watch
Date: Sunday 29th April 2012
Time: 16:00 to 17:00
Smith and Jones. Series 29, episode 1.
Martha Jones finds herself on the moon. She meets the mysterious Doctor, and life will never be the same again.
(Widescreen, Subtitles, Audio Described, 5 Star)
Starring: David Tennant, Freema Agyeman