Today in the 'Whoniverse'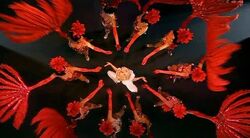 Behind the scenes
1906 - Aimée Delamain born. played Doña Arana in the Doctor Who story The Two Doctors.
1927 - Alan Chuntz born, played the Chauffeur in the Doctor Who story The Seeds of Doom. He was also a member of HAVOC.
1927 - Gerald Flood born, played King John and voiced Kamelion in DW: The King's Demons.
1935 - Anthony Read born, was script editor on Doctor Who during part of the tenure of Graham Williams as producer in 1978. He wrote the story The Horns of Nimon by himself and also collaborated with Williams on the script of The Invasion of Time, under the shared pseudonym of David Agnew, after the original script, involving an invasion of the Time Lord citadel by a race of Cat People, proved unworkable.
1973 - Episode 3 of DW: Planet of the Daleks was first broadcast.
1977 - Doctor Who and the Claws of Axos was released in paperback by Target Books.
2002 - Terry Walsh died, was a fight arranger, stunt arranger and stuntman for Doctor Who. He acted as a double for Jon Pertwee, the Third Doctor, as well as various other actors.
2007 - DW: Daleks in Manhattan was first broadcast.
2008 - BFA: The Destroyer of Delights begins recording.

Today in History
Historical Events
753 BC - Romulus and Remus found Rome (traditional date).
43 BC - Battle of Mutina: Mark Antony is again defeated in battle by Aulus Hirtius, who is killed. Antony fails to capture Mutina and Decimus Brutus is murdered shortly after.
1453 - Turkish fleet sinks ships Golden Receiver in Constantinople
1509 - Henry the VIII becomes King of England
1654 - England & Sweden sign trade agreement
1689 - William III & Mary Stuart proclaimed king & queen of England
1857 - Alexander Douglas patents the bustle
1972 - Orbiting Astronomical Observatory 4 (Copernicus) launched
Famous Birthdays
1926 - Elizabeth, Alexandra Mary Windsor II, Queen of England, 1952- )
1930 - Margaret Rose, London England, Princess of York [or Aug 21]
2007 - Princess Isabella of Denmark
Famous Deaths
1109 - Anselmus, philosopher/archbishop of Canterbury, dies
1509 - Henry VII, 1st Tudor king of England (1485-1509), dies at 52
1793 - John Michell, English seismologist (b. 1724)
1910 - Mark Twain, [Samuel Clemens], auther (Huckleberry Finn), dies at 74
1918 - "Red Baron", [Manfred von Richtofen], shot down in WW I at 25
Todays UK TV and Radio
Doctor Who
On: BBC 3
Date: Saturday 21st April 2012
Time: 19:00 to 19:45
Midnight. Series 30, episode 10.
The Doctor is trapped, powerless and terrified, on the planet Midnight, as the knocking on the wall begins...
(Stereo, Repeat, Widescreen, Subtitles, Audio Described, 5 Star)
Starring: David Tennant, Catherine Tate, Lesley Sharp, Rakie Ayola, David Troughton, Ayesha Antoine
Doctor Who Confidential
On: BBC 3
Date: Saturday 21st April 2012
Time: 19:45 to 20:00
Look Who's Talking. Series 4, episode 10.
The travelling Timelord swaps his TARDIS for alternative transport, the secrets behind things that go bump in the night are revealed and there's a look at how the sound team put together the complicated soundscape of the programme. Featuring exclusive interviews with David Tennant, Russell T Davies, Lesley Sharp, David Troughton, Lindsey Coulson, Daniel Ryan and Colin Morgan.
(Stereo, Repeat, Widescreen, Subtitles, 2 Star)
Doctor Who
On: Watch
Date: Sunday 22nd April 2012
Time: 09:00 to 10:00
Doomsday. Series 28, episode 13.
David Tennant's Doctor is caught in the middle, as the two terrifying armies wage war.
(Widescreen, Subtitles, Audio Described, 2006, 5 Star)
Starring: David Tennant, Billie Piper, Camille Coduri, Noel Clarke