Today in the 'Whoniverse'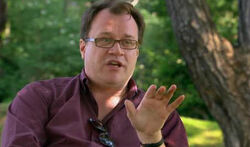 Behind the scenes
1911 - Colin Gordon was born. Played the Commandant in the Doctor Who story The Faceless Ones.
1912 - Zohra Sehgal was born. Played Sheyrah in the Doctor Who story The Crusade.
1956 - Kevin McNally was born. Played Hugo Lang in the Doctor Who serial The Twin Dilemma.
1963 - Russell T Davies was born. He is a television writer and producer responsible for the revival of Doctor Who and the creation of Torchwood and The Sarah Jane Adventures. From 2005 to mid-2009 he was the head writer and one of the executive producers of the BBC Wales version of Doctor Who.
1968 - Episode 1 of DW: The Wheel in Space was first broadcast.
1974 - Part 6 of DW: The Monster of Peladon was first broadcast.
1986 - Jenna-Louise Coleman born, She will play the next companion.
2010 - BBCR: Slipback was offered as part of a week-long giveaway by The Daily Telegraph.

Today in History
Historical Events
1124 - David I becomes King of Scotland.
1296 - Battle of Dunbar: The Scots are defeated by Edward I of England.
1646 - King Charles I flees Oxford
1773 - British Parliament passes Tea Act
1963 - Cuban premier Fidel Castro arrives in Moscow
1972 - Apollo 16 returns to Earth
Famous Birthdays
1737 - Edward Gibson, England, historian (Decline & Fall of Roman Emp)
1944 - Michael Fish, British TV weatherman
Todays UK TV and Radio
Doctor Who
On: BBC 3
Date: Friday 27th April 2012
Time: 19:00 to 19:50
Turn Left. Series 30, episode 11.
As Donna's world collapses, she finds help from a mysterious blonde woman - but can Donna and Rose stop the approaching Darkness?
(Stereo, Repeat, Widescreen, Subtitles, Audio Described, 5 Star)
Starring: David Tennant, Catherine Tate, Billie Piper, Bernard Cribbins, Jacqueline King, Chipo Chung
Doctor Who Confidential
On: BBC 3
Date: Friday 27th April 2012
Time: 19:50 to 20:00
Here Come the Girls. Series 4, episode 11.
The world is in crisis and there's only one person who can save it, but it's not who you might think. Witness the world without the Doctor, travel backstage with the TARDIS, and take a stroll down the exotic Shan Shen Alley. There is also the return of an old friend to the show in the shape of Rose Tyler. Featuring an exclusive interview with Billie Piper and contributions from Catherine Tate, David Tennant and Russell T Davies.
(Stereo, Repeat, Widescreen, Subtitles, 2 Star)