Editor's bit...
(Dave Lewis 'The Mad Man with a Blue Blog')
Todays picture is Heading for the heat barrier by Harnois75. The Doctor and Jo find themselves pursued by one of the possessed villagers in the stolen UNIT helicopter. Ahead lies the heat barrier that surrounds the village and will incinerate anything that tries to cross it.
Todays Jigsaw...

88

Miscellanious News
WalesOnline - Torchwood star Eve Myles won her latest role by auditioning on Skype
"They arranged for me – on the Wednesday – to audition on Skype, which I'd never done before. Anybody who knows me knows that I have difficulty with a mobile phone, never mind the internet! So I had a Skype audition with Peter DuBois, who was in New York, which lasted an hour and a half, then I had another 40-minute audition with Zach in Los Angeles....."
WalesOnline - Doctor Who records must be released by council, tribunal rules
Cardiff Council has been ordered to release all its records relating to Doctor Who. The council corresponds regularly with the BBC over road closures for filming the science fiction series in the city. Journalist Christopher Hastings asked last year for all communications between the council and the BBC related to the programme. He also sought all relevant council correspondence with utility companies and other public bodies, and copies of complaints sent to Cardiff about the programme....
Scanner selected posts...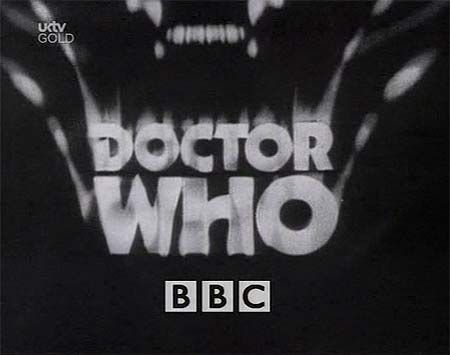 WHOGold has Alistair Fergus: Chatty Man. It's the morning of Saturday 26th March 2005 and the first brand new Doctor Who adventure in almost nine years is about to materialize on BBC1. Satellite channel UKTV Gold are joining in the celebrations by screening five complete stories from what would we'll soon be calling the 'classic series'. It's 10.20am and early risers have just enjoyed a re-run of The Time Meddler (1965) - next up: The Daemons (1971)... so, what on earth could give viewers the Devil's Hump?...
WhoTube....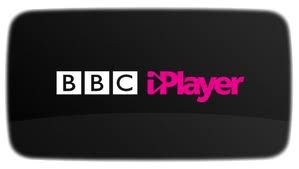 Podcasts and VBlogs...
Beware most podcasts are of an adult nature and are not suitable for children.

The Happiness Patrol has Episode 83: David Prowse was in The Time Monster. It's Convention Time again and The Happiness Patrol is busy covering both coasts of the USA! We check in with Nancy A and hear about her adventures at Gally 23 in LA, and Lewis B as his carts his Tardis to MegaCon in Orlando.
Mutter's Spiral Podcast has The Triumphant Return! The Podcast returns after a 6-month hiatus! We talk about our recent visit to Gallifrey One, the giant Doctor Who convention in LA. Also, in a new feature, we talk about the Amazing Race! And, of course, as always… it wouldn't be Mutter's Spiral without TRIVIA! John takes it easy on me this week, but I'm sure they'll be impossible again starting next week!
Radio Free Skaro has Episode 299 - Star Trek XII: So Very Tired. Gally is over for another year. While the Three Who Rule briefly reminisce about the glory that was Gallifrey One's Network 23 in this episode of Radio Free Skaro, it's back to normal for podcaster and listener alike for the next few months - at least until next year's The 24 Hours of Gallifrey One, or y'know, until the new series of Doctor Who starts in the autumn. To help us get back into the swing of things, we present to you a commentary on the 2011 Doctor Who Christmas special, The Doctor, The Widow and The Wardrobe, as well as a smattering of news and views of what was missed while we were all living it up at Gally.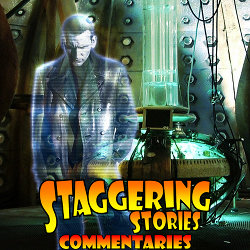 Staggering Stories has Commentary 53: Doctor Who – The Parting of the Ways. Rose has abandonment issues, Jack's got a big weapon in his hand, the TARDIS is in need of a gentle tug and the Doctor's faced with repeating history all over again. But enough of their problems, please sit down with us to enjoy Doctor Who: The Parting of the Ways…
Tid-Bits...
The Void Noir has In Print - Episode 23. This has a slight re-branding theme this week. As always In Print is brought to you by the hands of Alasdair Shaw and Jim Wilkins, and the full picture can be found here.
RedBubble.com has Mondas Cybermats by DoctorWhy. Every planet needs a sports team to root for; Gallifrey has a TARDIS racing team and Sonic Screwdriver team, and Earth's sister planet has a team of its own. And who better to be their mascot than the silver rat?
Review's Roundup...
The Daily P.O.P. has BBV Summoned by Shadows. On an alien planet, the population is under the control of a flamboyant alien visitor in several guises, using the innocent to achieve his own ends. The only hope of escape from this villain's thrall lies in the hands of a strange hermit who keeps to himself outside of the limits of civilization. In order to stop the being known as The Conjurer, the Stranger must cast aside his guilt and embrace his true mission in life, to stop those who would harm others… but would he be in time?...
Tea with Morbius has Zamper, by Gareth Roberts (Virgin New Adventure). On the whole, the cast of characters are interesting, though a few are a bit lacking in depth. Smith was interesting at first, but then turned into a generic pseudo-companion. I was a bit bothered by the fact that the author killed off so many of them and his decision to give the two female villains very gruesome deaths.....