Editor's bit...
(Dave Lewis 'The Mad Man with a Blue Blog')
Todays picture is Till We Meet Again by rantl.
Todays Jigsaw...
Scanner selected posts...
WhatCulture has Doctor Who & The History of The Master! It's not what happens to a character that defines who he is, rather it's how he handles those things. This is so trite that it's become a platitude. Yet, when one thinks about Doctor Who, the longest running sci-fi series on television, one has to wonder what's made it so enduring. It all boils down to how the Doctor deals all the challenges. When those menaces are the Daleks, Cybermen, Sontarans, to name just a few, it is easy to see why the Doctor is one of the most beloved of all sci-fi characters....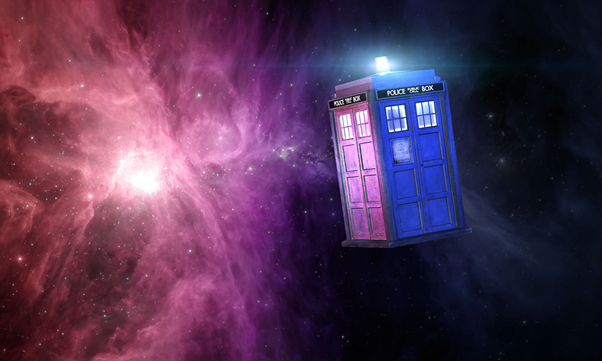 Centives has posted Rent a TARDIS; £15 million per year. Disclaimer: This is not the cost of making the TARDIS. This is an estimate of how much the Doctor could rent it out for. That is to say, how much we think that people would pay for it. We've decided to go for a year-long hire of the TARDIS, and make a flying guess at what we would expect the market price to be. Roughly....
Podcasts and VBlogs...
Beware most podcasts are of an adult nature and are not suitable for children.

The Flashing Blade Podcast has Episose 1-121. Siobhan has had a hellish few weeks, so Bob and Viki actually do some work! And overcompensate. The two of them talk. A LOT!
The Sonic Toolbox has Episode 21: Gallifrey One 2012 Review Main Course. Gallifrey One Network 23 is over. What did we like? What did we love? What ribbons did we collect? Highlights and fun reviewed within!
Doctor Who - Who's He? has Episode 50 The first thing I met, was a fly with a buzz. The reviewing duo of of Phil and Paul press on with the next phase of their retrospective with a look at the first of the 2009 specials, Planet of The Dead. This is a most divisive podcast and Paul rather enjoys it and Phil detests it but all this makes Phil wax lyrical about the rich tapestry of the human race but veers dangerously close to one those awful episodes of Star Trek: The Next Generation where Data explores what it's like to be human. And in the news this week, series 7 casting news, the end of the Adventure Games and Doctor Who tat.
Tid-Bits...
Rich's ComixBlog has A Time to Kill - 009. In 1973, in an orbiting space station, a mysterious man with a white cat orders the activation of a time corridor. A TARDIS is drawn into the lab....
RedBubble.com has Doctor Who - The angels have the phone box by Adekin.
Geeks of Doom has Geek Gear: Doctor Who 'Whovian Crest' Shirt. The $10 t-shirt deal of the day over at TeeFury today is a Doctor Who-themed shirt called "Whovian Crest" by WinterArtwork. The sale began at Teefury today, Monday, February 27, 2012, at midnight EST, and will continue for 24 hours from then, and once it's over, it will not be sold on the site anymore.
Review's Roundup...
Doc Oho Reviews has Project: Destiny written by Cavan Scott & Mark Wright and directed by Ken Bentley. 1999: Leaving her infant son behind, a young mother named Cassandra Schofield departs Bolton, seeking a better life amid the lights of London. 2004: Despite the best efforts of the time-travelling Doctor, 'Cassie' Schofield dies on Dartmoor, a vampirised victim of the sinister organisation called The Forge. 2021: All grown up, and a nurse at St Gart's Hospital, Thomas Hector Schofield – known as 'Hex' – meets, and becomes a companion to, that time-travelling Doctor…
TARDIS Eruditorum has Because We Don't Quite Fully Understand (Four to Doomsday). "While I would not go so far as to call this story an overlooked gem (or as an overrated disaster), it is a fair bit more interesting than its reputation. The first thing to realize about it is that it very much sets the tone for Season Nineteen. Of the seven stories in Season Nineteen three are unabashedly attempts to redo things the series has done in the past in a new format...."
planetzogblog has Doctor Who 3.2: The Shakespeare Code review. This episode is this season's "celebrity historical". Compared to the lives of Dickens and Queen Victoria, not much is known about the actual details of Shakespeare's life so Gareth Roberts is allowed to have a little fun....
Second Life News
The TARDIS Newsroom has its own place in Second Life, come and drop in for a virtual Doctor Who World of adventure at Paradox Island.
Paradox Island - A Second Life Adventure has Zenobia Station - The Garden. From The Musings Of Mornington. The extended and revamped garden of Zenobia Time Station has finally been finished!