Editor's bit...
(Dave Lewis 'The Mad Man with a Blue Blog')
Todays picture is A Madman with a Box by miriamuk21.
Todays Jigsaw...

80

Previous Posts...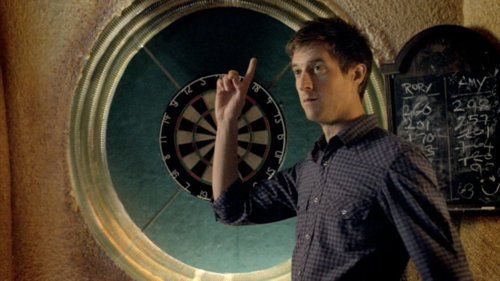 Whovian News....
Wetherby Today has Exterminate! Exterminate! Where is The Doctor? A Dalek invasion took place at Wetherby High School last Friday but fear not as it was all in the best humour. Rather than looking to exterminate humans they were at the Hallfield Lane site with Doctor Who author Daniel Blythe to meet young Earthlings. Senior assistant headteacher Mark McKelvie said: "It was absolutely fantastic. "In the morning we had all 210 Year 4 pupils from seven primary schools - Crossley Street, Collingham, Wetherby St James, Deighton Gates, Bardsey, Shadwell and Highfield. "Daniel presented a talk about the Doctor Who TV series and discussed his own writing." Youngsters had the chance to buy a signed copy of Daniel's book and many had their picture taken with the author and a full-sized Dalek...
Miscellanious News
David Tennant News - David Tennant To Guest On The Nerdist TV Special
David Tennant has been confirmed as a guest on the next Nerdist TV Special hosted by Chris Hardwick on BBC America. Rumours of his appearance surfaced yesterday when an audience member at the Nerdist Live Podcast even in Northampton, MA tweeted that Hardwick had told her personally that he would soon be flying to the UK to interview David for the show. Hardwick has now confirmed the appearance..
David Tennant News - David Tennant Talks Christmas on CBBC's Newsround
David Tennant appeared briefly on CBBC's chidren's news magazine show Newsround earlier today. In a short interview he answered questions about what he liked about Christmas (the great TV), his best ever present (it was an Astro Wars game) and Christmas dinner (he loves the full works). David also mentioned that his favourite Christmas song is 'White Wine In The Sun' by Tim Minchin...
Podcasts and VBlogs...
Beware most podcasts are of an adult nature and are not suitable for children.

The Big Finish Podcast has Podcast - December 001: Big Finish on Tour 2: Chicago - 02 December 2011. Brrrr... it's a bit nippy out. Probably because it's December, and that must mean it's time for a new podcast! In an ill-judged attempt to find some better weather, Nick Briggs has made a beeline for the United States and the Chicago TARDIS convention. And who's this along for the ride? Why, it's none other than Big Finish Big Cheese Jason Haigh-Ellery, the man without whom none of this would be possible. Join the executive producers of Big Finish as they take questions from the convention attendees on a variety of topics. So if you want to know more about pricing strategies, the format of Blake's 7 releases, brand new Sherlock Holmes, where things stand with Stargate and, of course, some of the ins and outs of making Doctor Who (and who wouldn't?), this is the podcast for you!
Outpost Skaro Podcast has 21 – Remember Remember. Nothing if not current, Alan and Derek sit down and discuss the latest in the Adventure Games, The Gunpowder Plot. Guy Fawkes, Sontarans, Rutans and Rory, the guys discuss the change in format for the Adventure Games before settling in to talk about the shock news that David Yates is in discussions about a big screen Doctor Who movie.
The 20mb Doctor Who Podcast has Episode 89. In a throw back to the early days of the 20mb podcast, this episode is just Adam and Alicia talking about Doctor Who. We also have a brief look back over how the podcast has changed since we started in May 2010.
The Untempered Schism Podcast has Episode 32: The Aztecs. This First Doctor adventure harkens from the very first season of the show and features the original TARIDS Crew. Everyone has a part to play: Barbara gets to be in charge, Ian gets to be a warrior, the Doctor does a little romancing and Susan ends up being captured.
Tid-Bits...
K9 Official Page has an Early Christmas present.. the work in progress cover of the "Complete book of K9".. Book will be published in a few months time.
Doctor Who Reprint Society has In Print - 017.
RedBubble.com has K9 Christmas by Jarrod Kamelski.
eBay items of interest...
£0.01 (1 Bid)

End date: Monday Dec-12-2011 22:33:27 GMT
£9.99 (0 Bids)

End date: Monday Dec-05-2011 22:24:42 GMT

Buy it now for only: £49.90
£22.01 (4 Bids)

End date: Saturday Dec-10-2011 9:28:08 GMT
Review's Roundup...
Doc Oho Reviews has Gallifrey. Fronting a series with Lalla Ward and Louise Jameson is so intimidating to the other spin offs I'm not sure why they bothered! This is a very strong start for the Gallifrey series, it takes no time in establishing its own identity and it juggles some really juicy ideas about. Plus unlike the Excelis series it leaves a lot of intriguing threads dangling to be followed up later; what happened to Andred, who tried to set up Romana, what will be the result of the forthcoming judicial enquiry…?
Doc Oho Reviews also has A Thousand Tiny Wings written by Andy Lane and directed by Lisa Bowerman. 1950s Kenya. The Mau Mau uprising. A disparate group of women lie low in a remote house in the jungle, waiting for a resolution or for rescue. Among these British imperialists is Elizabeth Klein, a refugee from a timeline that no longer exists… thanks to the Doctor. Reunited, the Doctor and Klein are forced to set aside their differences by terrifying circumstances. People are dying in this remote place. One by one. And there's something out there, in the jungle, accompanied only by the flutter of a thousand tiny wings…
Shadowlocked has Doctor Who complete reviews: The Rebel Flesh. Maybe it's also because it's the fact that Flesh People, yet again, feels like another traditional slice of Classic Who. Blimey, even the 1985 season wasn't quite as nostalgic as these last few stories, and even then that's pushing it. The overall framework is that of Base-Under-Siege, a time-honoured Mighty Trout classic formula – the TARDIS is buffeted off course by a solar tsunami to Earth in the 22nd century where a skeleton crew of humans are mining for acid in an ancient old castle/monastery....
The Daily Drew has "Timewyrm: Revelation". This is the first New Adventure written by someone whose name was not familiar to me already. It's also the first New Adventure to be written by someone who would go on to contribute scripts to "Doctor Who" on television. One of the greatest legacies of the New Adventures is the people who started there and went on to have successful television careers. Paul Cornell is exhibit A. But he wasn't entirely unknown at the time, just unknown to me....
Second Life News
The TARDIS Newsroom has its own place in Second Life, come and drop in for a virtual Doctor Who World of adventure at Paradox Island.
Outer Space Book and a Pick of the Tweets...