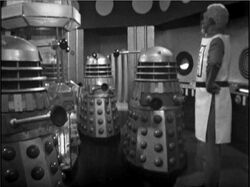 Today in the 'Whoniverse'
History of the Doctor Who Universe
1642 - Cardinal Richelieu dies in France. (BFA: The Church and the Crown)
History of Doctor Who
1965 - "The Traitors" episode 4 of DW: The Daleks' Master Plan was first broadcast.

Today in History
Historical Events
1259 - Treaty of Paris: English king Henry III & French king Louis IX (pictured)
1674 - Father Marquette builds 1st dwelling in what is now Chicago
1745 - Bonnie Prince Charles reaches Derby
1791 - Britain's Observer, oldest Sunday newspaper in world, 1st published
1931 - "Frankenstein" opens at Mayfair
1978 - Pioneer Venus 1 goes into orbit around Venus
1986 - NASA launches Fltsatcom-7
1996 - NASA's 1st Mars rover launched from Cape Canaveral
2006 - An adult giant squid is caught on video by Kubodera near the Ogasawara Islands, 1,000 km (620 miles) south of Tokyo.

Famous Birthdays
1895 - Fung Yu-lan, Chinese philosopher (d. 1990)
1930 - Ronnie Corbett, England, comedian (2 Ronnies)

Famous Deaths
1214 - William I of Scotland
1976 - Benjamin Britten, British composer (Beggar's Opera), dies at 63
Todays UK TV and Radio
Doctor Who
On: Watch
Date: Sunday 4th December 2011
Time: 11:40 to 12:40
The Empty Child. Series 27, episode 9.
Our heroes arrive in London, 1941, where a ghostly child in a gas mask terrorises a group of runaways.
(Widescreen, Subtitles, Audio Described, 5 Star)
Starring: Christopher Eccleston, Billie Piper, John Barrowman, Albert Valentine, Florence Hoath, Richard Wilson

With Bennett
On: BBC Radio Foyle
Date: Sunday 4th December 2011
Time: 13:30 to 14:00
John Bennett is off on his travels again, visiting the homes, studios and dressing rooms of some of the UK's best known actors, musicians, presenters and journalists. His first guest in this series is Welsh mezzo-soprano Katherine Jenkins. She talks about appearing in Doctor Who, her wild teenage years and setting a date for her wedding to Gethin Jones.