Editor's bit...
(Dave Lewis 'The Mad Man with a Blue Blog')
Todays picture is Moonbase by Harnois75. The TARDIS materialises on the moon, where the Doctor and his companions see a far off moonbase. Romping across the landscape towards it, the inexperienced 18th century Highlander Jamie comes a cropper when he leaps too far. He is taken to the base to recover. Meanwhile the Doctor and his other companions; Ben and Polly are soon embroiled in a plot that involves cybermen beseigeing the base.
Todays Jigsaw...

77

Previous Posts...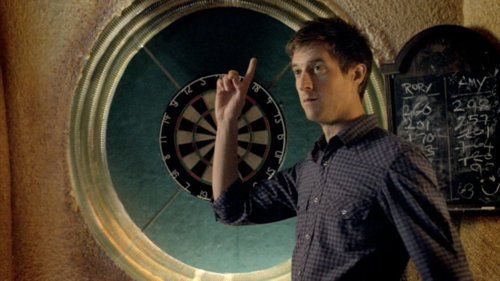 Whovian News....
io9 has Why David Yates' movie could be the best thing to happen to Doctor Who in ages. Doctor Who has earned a place in history with its longevity and the breadth of the show's amazing creative imagination. And a big reason why the world is still delighted by the exploits of the dotty British time traveler is because Doctor Who has constantly renewed itself, jettisoning everything except the basic concept of an alien in a time-traveling Police Box. So yes, we're totally thrilled by the reports that David Yates, director of four Harry Potter films, could be bringing Doctor Who to the big screen, with a brand new take....
Den Of Geek has A few thoughts on the Doctor Who movie news. In one of those lovely quirks of irony, I was showing my seven year old son the Doctor Who episode Dalek on Sunday. You might remember it. Written by Robert Shearman, it's arguably the finest Dalek story since the show returned in 2005, and the bit that stuck in my head tonight was the moment when the solitary Dalek managed to absorb the entire Internet. It struck me that if he'd tried to do that, around twenty minutes after Variety uploaded its story regarding a film being made of Doctor Who, it might just have imploded there and then....
SFX has The Doctor Who Movie: Let's Get Some Perspective. As the internet goes into meltdown, sfx.co.uk's editor suggests something radical… maybe we should all just wait and see?...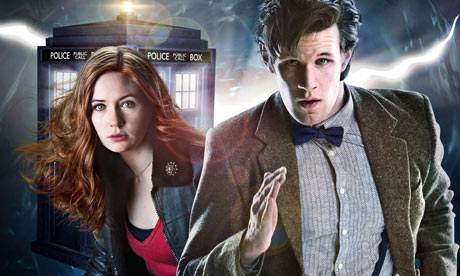 guardian.co.uk has New Doctor Who film: should the Doctor take to the big screen? News that Harry Potter director David Yates is taking Doctor Who to the big screen should have been met with balloons and streamers. But already there are rumblings of disquiet. While giving the show a massive budget and an international reach sounds like joyous news, with fans it's rarely that simple. And as the details sink in, it's hard not to see the movie as all kinds of wrong....
Telegraph.co.uk has Doctor Who : Will this film do the series justice? News of a Hollywood version of the popular sci-fi show comes after a string of spin-off feature films and videos inspired by the original programme. But this time, the BBC is working closely with producers though like many that preceded it, the film is not expected to follow on from the series....
British Board of Film Censors has DOCTOR WHO - THE FACE OF EVIL [Additional material] passed PG
00:14:04:12 TOMORROW'S TIMES - THE FOURTH DOCTOR
00:09:02:00 THE FACE OF EVIL - FROM THE CUTTING ROOM FLOOR
00:05:40:02 THE FACE OF EVIL - PHOTO GALLERY
00:04:26:16 MULTI COLOURED SWAP SHOP
00:00:30:11 (DENYS FISHER TOYS ADVERT)
00:17:19:18 DOCTOR WHO STORIES - LOUISE JAMESON
00:25:09:22 INTO THE WILD - THE MAKING OF THE FACE OF EVIL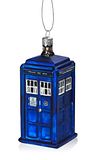 Doctor Who News has Hang A Dalek on the Christmas Tree. BBC Worldwide has has launched a two new Doctor Who hand crafted glass tree decorations. Forget everything you ever knew about Daleks and imagine that this one comes in peace for Christmas, dressed all in red and rendered temporarily harmless. And wherever there is a Dalek the TARDIS is sure to be close behind. Materializing on Earth just in time for Christmas, its classic TARDIS blue colour and instantly recognizable chassis give your tree an intergalactic touch, from far beyond the brightest star the human eye can see...
Den of Geek also has Peter Kay on his Doctor Who regret. As he launches his latest DVD into the world (which I've seen, but won't bore you with my thoughts here, save for saying you'd be mad to buy it), Peter Kay has given a rare interview to The Express. And as part of that interview, he was asked if he had any regrets in his career. His answer? His appearance in the Doctor Who episode, Love & Monsters. It's probably fair to point out that Love & Monsters is hardly a fan favourite episode (er, quite the contrary), and Kay himself seems quite critical of it. "I loved making it but when I saw it, I thought, 'Oh my God. I'm big green lizard running around Cardiff? Is that it?'". As he then pointed out, "It's nice to have been in Doctor Who but that is regarded by fans as the worst episode ever"...
WhatCulture has Top 5 Choices For Doctor Who Movie Villains. With the surprising announcement yesterday that Harry Potter director David Yates and the BBC were jumping in to bed together on a new Doctor Who movie that would have no correlation to the current t.v. incarnation, one of the speculative questions to instantly hit the minds of fans is, "What villains will they use?". Well as we always like to do with our on-going fantasy casting series, we are more than happy to fuel the imagination. Here's our best five suggestions for the Doctor's big screen threat!....
Miscellanious News
Scanner selected posts...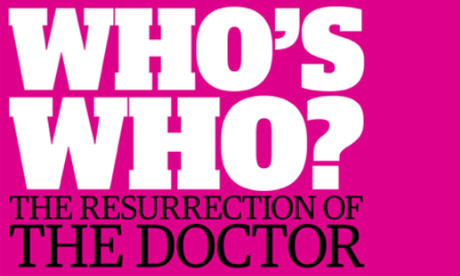 The Guardian has Who's Who? The Resurrection of the Doctor. Doctor Who ebook brings together interviews and features charting the revival of the BBC's flagship Saturday tea-time drama and features interviews with the three men to tackle the leading role - Christopher Eccleston, David Tennant, and Matt Smith - and the two men who have been in charge of the show's fortunes: Russell T. Davies and Steven Moffat....
WhoTube....
thinkgeek has Doctor Who Ride-in Dalek.
brucethedalek has Dimensions '11 with Bruce the Dalek and friends. Doctor Who convention at the Holiday Inn, Seaton Burn, Newcastle Upon Tyne on the 11th to 13th November 2011.
Podcasts and VBlogs...
Beware most podcasts are of an adult nature and are not suitable for children.

Traveling the Vortex has Episode 46 – Adversary Archive: The Sontarans. We pilot the TARDIS back through the vortex this week for our latest Adversary Archive: The Sontarans. In this episode we review two classic Sontaran stories, The Sontaran Experiment and The Invasion of Time. Unfortunately, Glenn fell down on the job this week, and failed to get a copy of Shakedown: Return of the Sontarans to Shaun and Keith, so we will delay our review of that story until a future episode. Also, we return with more of your feedback, old and new! And we chime in on what's news in the Whoniverse.
Geekshow has The Doctor's Companion Special Edition – Movie News. The Doctor is headed to the big screen and Scott and Matt have a lot to say on the subject. Director David Yates (Harry Potter 5-8) has been hired by the BBC to direct a complete reboot of the Doctor Who franchise as a film series. Can a "regenerated" version of Doctor Who work? How do we feel about the news? What are some of the actors we DON'T want to see as the big screen Doctor and who do we agree would make a great big screen Master?
Tin Dog Podcast has TDP 216: Sarah Jane Smith at Big Finish 1.1 Comeback. Comeback is a Big Finish Productions audio drama based on the long-running British science fiction television series Doctor Who. It stars Elisabeth Sladen reprising her role as Sarah Jane Smith.
The 20mb Doctor Who Podcast has Episode 86: Destiny of the Daleks. Adam, Alicia and Isabella open the show with talk of feedback, News and eBay. Alicia also answers questions posed last week when she wasn't available. Isabella sings two songs and causes a few problems. The Great-est Podcast Sabateur pipes up with a few comments. Ben, Kirby and Rhys join in the fun with the top 30 podcasts, more feedback and of course our review of the Tom Baker story and Terry Nation's last Doctor Who story, Destiny of the Dalek.
The Happiness Patrol has Episode 74: In Case You've Just Joined Us. I keep forgetting that some crazy nutters out there have never heard The Happiness Patrol and have no idea what the hell we are go on about! So for those poor sods yet to dip their collective toes into the pink KoolAide, this episode is for you!
Gallifreyan Embassy has Episode 260 - Doctor Who: Podshock. In this episode, we review Doctor Who: The Rescue, Doctor Who news, Frazer Hines interview (part 1), and your feedback.
Arrow of Time has 028 – Everything You Know Is Wrong. Another podcast is in the can! No, not the trash can, the audio-file… can? What does that expression even mean? No time for etymology, we've got a real humdinger of a show for you this week in which we get around to covering the series six finale, finally. Finalelly. We also master the proper use of regular musical breaks, only a year and change after starting this charade.
Two-minute Time Lord has 2MTL 244: Should a Doctor Who Movie Be a Fresh Start? "Who" ought to be in pictures? If BBC Worldwide Productions and director David Yates have anything to say about it, apparently so! But what's this about casting aside 48 years of continuity and starting fresh for the silver screen?
Doctor Who - Who's He? has Episode 36 It felt like the world would freeze. The lads continue to plough on with the series 5 retrospective with one of their favourite stories from that series, Amy's Choice. Try as they might, they both felt that were struggling with this one, as they both agree that it is still one of the best episodes of series 5 but there was nothing to moan about! And an episode of Who's He? just isn't the same without someone whinging about something. Oh, I forgot, they whinged about one of this weeks news items, which is the announcement of an official BBC Doctor Who convention next year which is going to cost the punters £99 per ticket! Still, aside from that, they'll see you there!
Tid-Bits...
Geeks of Doom has Geek Gear: Doctor Who 'Intoxicate' Shirt. The $10 t-shirt deal of the day over at RIPT Apparel today is the Doctor Who-themed shirt called "Intoxicate" by artist Bamboota. The shirt went on sale at RIPT today, Tuesday, November 15, 2011, at midnight CST, and will continue for 24 hours from then, and once it's over, it will not be sold on the site anymore.
RedBubble.com has The Blue Box iPhone Case by Tom Trager. Did i mention it also travels in time?
Review's Roundup...
Feeling Listless has Jackanory directness. After the subtle disappointments of the previous instalment, I'm pleased to report Paul Magrs and the gang are right back on form with the third Doctor Who's Serpent Crest story, Aladdin Time. After being absorbed by the secret magical Tzistari egg (how do we spell Shistari? Kichetary? Chichester?) the Doctor and Wibbs find themselves in an Arabian Nights inspired land of fiction conjured by Robotov heir Alex's imagination. Aided by a familiar sounding Aladdin, they face all manner of perils and obstacles while searching out the magic lamp who's powers might allow them to escape....
Doc Oho Reviews has The Sentinels of the New Dawn written by Paul Finch and directed by Lisa Bowerman. Some time after leaving UNIT, Liz Shaw calls the Doctor to Cambridge University, where scientists are experimenting with time dilation. A device hurls them to the year 2014, and a meeting with Richard Beauregard, heir to the Beauregard estate. But there's something rotten at the core of this family… The seeds of a political movement that believes in a new world order. The Sentinels of the New Dawn are stirring. And their malign influence will be felt for centuries to come…
Time and The—! has The Wall of Lies. The Doctor, Susan, and Ping-Cho go to the Cave of Five Hundred Eyes to search for Barbara The Doctor is fascinated by the bizarre paintings of the 250 H.ashsha-shi-n who hid out in the cave more than twenty years ago, unaware that the bandits are mere inches away, hiding in secret chambers behind the walls. And then—Susan lets out a piercing shriek: the eyes of the painted H.ashsha-shi-n are moving…
The Edwardian Adventurer has Doctor Who Story Number 42 – Fury From the Deep. Fury from the Deep is a story that I want to like. Indeed, there are elements that I enjoy quite a bit, so I'll start there. Mr. Oak and Mr. Quill are extremely creepy in audio. I have no idea how they were on screen, but they are silent, deadly, and seem malicious. They remind me of the assassins from Neil Gaiman's Neverwhere, Mr. Croup and Mr. Vandemar. They seem to be moving from one drilling rig to another, sabotaging them so that the weeds can gain access.
Outer Space Book and a Pick of the Tweets...
IanLevine

Please God dont let the fact they're now making a huge Dr Who movie affect the TV series in any way. Bad enough we have a huge delay already
| | |
| --- | --- |
| | The Amazing Worlds of Doctor Who & Beyond News from Twitter @SawbonesHex Colin Baker I am allowed to tell you this and no more - Celebrity Come Dine with Me over Christmas. Watch yours truly cooking and eating - ad nauseam |
DWMtweets

The BBC News page is simply reporting the same rumours already taken from Variety. It is NOT confirmation of a movie being made.
JasonGA:

A Dr Who movie could work, but not if they ignore everything from the TV series like the announcement suggests. Example: the 1996 movie.
alsandair:

So there'll be a dr who film with no smith? I only invested excitement in the mcgann film because i was living on tv repeats. No need now.
| | |
| --- | --- |
| | Gareth David-Lloyd - The Official Page Gareth will be helping to switch on the Christmas lights at Station Road, Llandaff North on Thursday 24th November, with the festivities kicking off at 6:30pm. |