Today's Releases
Click to pictures for details
Today in the 'Whoniverse'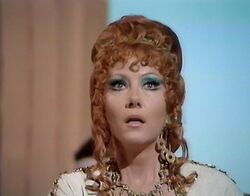 History of the Doctor Who universe
1962 - Peri Brown's parents, Janine and Paul Brown, were married. (CC: Peri and the Piscon Paradox)
1979 - Ian Dury and the Blockheads performed in concert at Sheffield, England. (DW: Tooth and Claw)
2059 - The Flood infected Bowie Base One; the base was later destroyed. (DW: The Waters of Mars)

History of Doctor Who
1924 - Malcolm Hulke was born.
1937 - Ingrid Pitt was born.
1953 - Jon Older was born.
1963 - The first ever Doctor Who press conference was held to launch the new show. All four lead actors and David Whitaker attended the event at BBC Langham.
1964 - "World's End", Episode 1 of DW: The Dalek Invasion of Earth was first broadcast.
2009 - Part 1 of DW: Dreamland was first broadcast.

Today in History
Birthdates
1694 Voltaire [Francois-Marie Arouet], France, thinker
1787 Sir Samuel Cunard founder (1st regular Atlantic steamship line)
1941 Juliet Mills London England, actress (Nanny & the Professor, QB VII)
1957 Jim Brown rocker (UB40-Red Red Wine)

On this day...
1877 Tom Edison announces his "talking machine" invention
1953 "Pitdown Man," discovered in 1912 proved to be a hoax
1977 1st flight of the Concorde (London to New York)
1980 John & Yoko pose nude for photographer Allan Tannenbaum

Todays UK TV and Radio
Fearne Cotton with Matt Smith and Karen Gillan
On: BBC Radio One
Date: Monday 21st November 2011
Time: 10:00 to 12:45
It's all about Dr Who as Fearne catches up with Matt Smith and Karen Gillan.