Editor's bit...
Todays picture
is
Extermineren!
by Dan McDaid, Boom! Dalek Tank!
The News...
The Doctor Who News Page
has
Autism project calls for Doctor Who fans
, Researcher Michaela Schubert is working on a book about Doctor Who and the autism spectrum, and is calling for Doctor Who fans to answer a few questions about their experiences with the show. Says Schubert, the idea is to get as many people, especially those on the spectrum themselves, to respond and share their Doctor Who viewing experiences as possible, so that the book can reflect as many different viewpoints as possible. Because the show's audience and the autism spectrum are both so varied, the most important thing this project can do is to let everyone have their own say, Schubert emphasizes that contributions are welcome from all, regardless of how much Doctor Who you've seen or whether you have been diagnosed with an autism spectrum condition, she is a PhD candidate at Penn State College of Medicine, and describes herself as "a Doctor Who fan and an Aspie", information on the book project and links to a brief questionnaire can be found
here
; the questionnaire can also be found online in
PDF
or
DOCX
formats.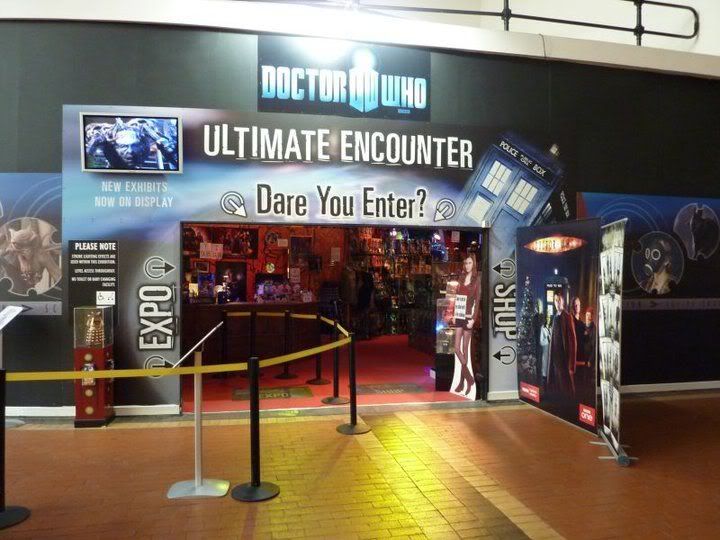 They also have
Cardiff Exhibition Closes
, since its opening in December 2005, the Up Close Exhibition based in Cardiff Bay's Red Dragon Centre has provided a focal point for Doctor Who fans visiting the spiritual home of the 21st Century series, and also a popular venue for the public visiting Cardiff Bay, with some half-million visitors over its five years, however, today sees the exhibition close for the final time, as preparations begin for a new permanent home for the Doctor Who Experience, due to move to Cardiff in 2012 once the current operation at Olympia in London finishes.....
Scanner selected posts...
Pop-Break.com
has
Idiot's Guide to Time Lords: The Basics of Doctor Who
, the British TV import Doctor Who has the dubious honour of being hit by a reputation as far as mainstream exposure. The show, which is in the Guinness Book of World Records as the longest-running science-fiction series in the world, is highly acclaimed yet dogged by having a low-budget past.....
Andrew Skilleter
has
Illuminating the Target
, back in 2007 David Howe and the Telos Publishing crew launched a book of tremendous ambition and breadth – The Target Book – the story of the remarkable Target Imprint and the Doctor Who novelisations that meant so much to the fans who consumed them at the time.....
Selected Doctor Who News....
WhoTube....
The Omega Podcast Episode 42: SonicTool iPhone/iPod/iPad App Review
, in episode 42 we have Wendell reviewing one of the newest sonic screwdriver apps for iPhone, iPod Touch, and iPad. SonicTool, developed by Temporal Shift, looks to have some of the coolest features available, will Wendell find it worth the $.99? Watch and find out.
Blink Films Doctor Who Teaser Trailer
, a short teaser trailer to promote my upcoming animated Doctor Who series, featuring the Thirteenth Doctor.
Dr Who Consoles New and Old
, a quick walk through showing the difference between the RTD era TARDIS and the much nicer 5th-7th Doctor's one.
Podcasts...
The Flashing Blade Podcast
has
Episode 1-86. (Through a Bob, Darkly)
, 'Do I have the right... Just touch these two wires together...', 'Then you deny what is real...' , Bob and Tony look at The Resurrection of Mars and find themselves entering a long, VERY dark, teatime of the soul.
Tim's Take On
has
Episode 62 (The Doctor Who Experience review)
, in a change to the advertised episode here's a mini episode about my visit to The Doctor Who Experience, currently at London's Olympia 2.
Tid-Bits...
Tardis Art
has posted an alternative DVD cover for
Survival
.
Crafty Tardis
has
Donna and the Doctor from Planet of the Ood
, "I thought it would be time to delurk and share some of my DW-ish crochet adventures here, so, first as they should always be, Donna & 10 ready for a trip to an ice planet...."
Cheezburger Network
has
It's Bigger Inside Of The Day
, TARDIS Purse drawstring bag by Etsy seller My Funky Camelot, $50.
Review's Roundup...
Tachyon TV
has
Adventures with the Wife in Space: The Chase
, it's the return of Sue's favourite monsters: Terry Nation and Richard Martin. It can only end in tears...
They have also posted
Adventures with the Wife in Space: The Time Meddler
, as we reach the end of the second season we throw caution to the wind and watch a complete story in a single sitting. Of course, it helps that the story in question is one of the very best that 1960s Doctor Who has to offer.....
Bigger On The Inside
has
"Ashes to ashes. Dust to dust"
, at the climax of 'Remembrance of the Daleks' the Doctor has successfully executed his plan, tricking the Daleks into destroying their own world and then themselves. I think it is important to realise that this isn't the Doctor turning the Daleks plan against them, this is all his doing....
Doc Oho's Big Finish audios reviews
has
Red
written by Stewart Sheargold and directed by Gary Russell.Subject 2660 Celia Fortunate, designated citizen of the needle. Subject experiencing traumatic, violent delusions during waking moments. Subject remains pacified and under control of Whitenoise. Medication has been prescribed. Subject 0357 Vi Yulquen, designated Matriarch of the needle.....
Tegan
(Jeffrey Scott) has
Dr. Who (The Early Years) - Part 25 "Operation: Mole-Bore"
, Unit has been called to assist a recent project designed to drill through the Earth's crust to discover a new energy source. The Doctor doesn't think it's such a good idea, but no one else seems to listen to his warnings....
planetzogblog
has
Doctor Who 1.11: Boom Town review
, So, the TARDIS now has a crew of three – and with Rose asking Mickey to meet them at Cardiff bay, there's four regular characters in this story. Why Cardiff? The Rift (from an earlier story this season) is what supplies the TARDIS now with fuel....
Podcast Review's...
The Unearthly Child Podcast
has
Episode 31 - The Time Monster
, on this day (the sixth anniversary of Doctor Who's return, don't you know), this episode I bring you my insightful thoughts towards 1972 serial The Time Monster.
The Krynoid Podcast
has
017: The Three Doctors
, well Omega's anti-matter world is a little further afield than that, as The Three Doctors discover in this 1972/73 Pertwee-era tale, and what a tale it is, featuring as it does Home Counties bumpkins, a Rickmansworth quarry and a selection of blobby Soup Dragon impersonators.
The TARDIS Tavern
has
Episode 42: A Discussion of Episode 42
, what with vacations and illnesses and ungodly work schedules, we've scrambled back to the bar to record yet another bit of pdcasting gold. Ironically, we discussed Douglas Adams' work back in Episode 41, so we really had to slap our brains to for something clever to give you for Episode 42. Thus, we present a discussion of the third series story "42," with the Tenth Doctor and Martha....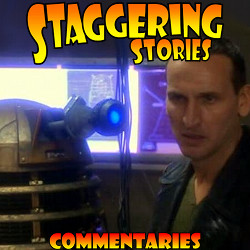 Staggering Stories
hasreleased
Commentary 27: Doctor Who – Dalek
, the Doctor's tied up, Rose it touching up a Dalek and Van Statten's gotta collect 'em all. But enough of their problems, please sit down with us to enjoy Doctor Who: Dalek…